We know there is more to painting than paint.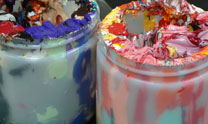 Our role in the arts community has been to provide artists with the best tools to meet their needs. This includes an obligation to provide the most complete information available on artists' materials from our laboratory, research, and collaboration with other innovators and material scientists. Since 1980 we have been champions of the acrylic medium with the GOLDEN Acrylic brand; in 2010 we were entrusted with the legacy of an amazing oil paint, Williamsburg Handmade Oils, and in 2014 we introduced a totally modern watercolor with QoR.
We also know that there is more to a paint company than making paint. We've been delighted to share the story of Golden Artist Colors, its growth, its legacy and its commitment to social responsibility.
As artists redefine our concepts of traditional media, we embrace the opportunity to challenge perceived limitations and capabilities of painting and seek to empower artists everywhere. The mission for Just Paint remains: inform and empower artists in the realization and preservation of their creative vision.